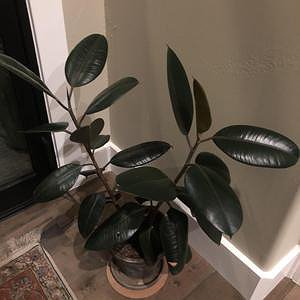 Rubber Plant (TC)
Last Watered: 5 days ago
More Info Location: Patio
Schedule: Water every 5 days
Bought: Jan. 1, 2020
Fertilized: 10/2/20 | Repotted: 10/2/20
Journal
1/27/23: Watered after 7 days, looked dry, but two new leaves have come up! They are tiny though, not enough sun I bet
1/20/23: Watered after 16 days
1/4/23: Watered after 12 days
12/5/22: Leaf yellowed and fell off :(
10/11/22: Watered after 7 days, looks like it's making a new leaf
10/4/22: Watered after 5 days
9/29/22: Watered after 11 days, hosed down
9/6/22: Watered after 7 days
8/30/22: Watered after 15 days
8/4/22: Mom watered after 13 days
7/22/22: Watered after 10 days by mom
6/11/22: Watered after 7 days
10/22/21: Watered after 11 days
10/11/21: Watered after 12 days
9/29/21: Watered after 9 days. A leaf yellowed and fell off
9/20/21: Watered after 16 days
9/4/21: Watered after 10 days
8/1/21: Watered after 11 days (another yellow leaf)
7/12/21: Watered after 12 days, a leaf completely yellowed and fell off
6/30/21: Watered after 26 days
6/4/21: Watered after 9 days
5/26/21: Watered after 10 days
5/7/21: Watered after 10 days, a leaf is yellowing :(
4/27/21: Watered after 8 days
4/12/21: Mom watered
3/28/21: Watered after 9 days
3/19/21: Watered after 12 days
2/25/21: Watered by mom after 8 days
2/17/21: Watered after 8 days, big new leaf came up!
2/9/21: Watered by mom after 12 days
3/7/21: Watered after 10 days
1/16/21: Watered after 12 days
1/4/21: Watered after 6 days
12/29/20: Watered after 7 days, new leaf coming up!
12/22/20: Watered after 12 days
11/30/20: This one is now terra cotta plant! Seems happy, put out a new leaf!
10/28/20: Watered after 8 days instead of 5, brought them inside because it was 40 degrees
10/13/20: Leaves still so droopy on both! Ugh
10/11/20: Watered big dude after 4 days because it's too most leaves were SO droopy, seems really shocked by transplant
10/7/20: Smaller plant had a leaf yellow, maybe too much fertilizer?
10/2/20: Fertilized! Repotted! Broke up into two separate pots, 50/50 organic potting soil and cactus mix.
9/25/20: Loves full sun!!! But needs to be watered frequently if it's hot
9/25/20: Always attracts spider mites! Moved to outside. Indoors, watered every 12-16 days. Outside in Texas heat, watered every 3 days. Now that it's getting cool, water every 5 days maybe? **sponged leaves off**
Add Entry